We are Tommy and Melanie, the proud owners of a poormans acre.
This site is basically about our family, and our family of goats. And I hope to get to tell and share more of my family with you later on. We own a few precious acres, and I do mean just a few, and since we are far from wealthy, the site is aptly named PO-MANS-ACRE. :)
Please click on the About me tab at the top of page to learn about us and our family. I look forward to introducing myself, and my family. On the family album tab, you will find pictures of us all. And if you would like to contact us via email, on the contact tab, there you will find my address.
Then there is that all important pet page. That is where I will have some info on my goats. I built a blog page in order to tell more about the goats in detail and all the things ive learned. I will also tell you about the squirrels, owl, hawk, deer and the bobcats in more detail as I add it to the blog.
I really do hope you enjoy reading about them and visit again often.

The main reasons I decided to do a website, was to share my love of my goats. We have 11 right now, and hopefully will get more later. None are purebreds, but they couldnt be loved more. My husband wants to get more, and sell but I havent been able to let him sell any yet. He is going to have to move them to his goat acre, for that to happen because I have an attachment to each one of them. They all have names, based upon their looks and personalities. Each one has a different personality, and we even have one that "talks" to us. She is training one of the younger girls to "talk" too because yesterday, there seemed to be a competetion over who could "talk" the loudest. In the following pages, you will meet each one of my girls, and then there are the boys. Two billys that are as different as night and day. Billy is my goat, and will never be sold, the other one is Moose, which is a fitting name and when you see his pic, I'm sure you will agree.
We also have two dogs, Big Otis and Miss Daizy. This is an update: We now have 4 dogs. Tater and Fred have joined the family. On the pets tab at the top of the page, I will introduce these guys. There have also been numerous squirrels, one deer named Dudley, and two baby bobcats named Sissy and Bubba, along with a rescued hawk and owl. I have no pictures of the squirrels, hawk or owl, but I will share a pic of Dudley and Sissy and Bubba and share their history with us here at the PO-MANS-ACRE. I hope you will visit often, and see the new things I add and my pictures. There is no telling what I may have next, because my husband is forever finding babies in the woods, and rescueing them for me to raise. :) And also see if I have my jackass yet. That is my next pet I plan on getting. :)
Change of plans! No jackass, but I did get two great pyrnees dogs. Isabella and Charlie. beautiful wonderful guard dogs for my goats.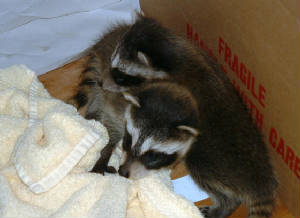 Me-ka and EE-Ree. Me-ka is the one on top. These names are Indian words describing a raccoon. Me-ka is Osage for raccoon magic, and EE-Ree is Wyndot for raccoon. My son in law is a member of the Wyndot tribe.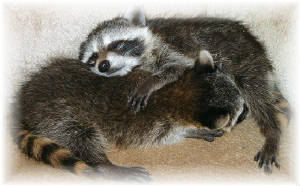 Please take a minute to sign my guestbook, so I will know you were here. Thanks bunches!!

View My Guestbook
Sign My Guestbook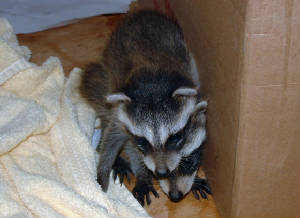 Meet Me-ka and EE-Ree. They are the newest babies in the family. I got them Tuesday and I am just guessing that they are about 3 weeks old. My brother-in-law works on a wood yard, and he was loading wood, and the rotten log crumbled, and they fell out. They had survived being hauled into the yard from the woods. I have never had raccoons before, and they are proving to be quite a challenge. Me-ka is as sweet as she can be. Loves to be cuddled and held but EE-Ree is the total opposite. She doesnt like anyone to even look at her. I can hold her and feed her but she wont allow anyone else to touch her. She has already bit my daughter, and tried to bit a couple of others. She wants to be totally left alone, so we grant her wishes. :) When they are out playing, Me-ka will lick and nibble my feet, and venture all over the house, but EE-Ree will eat, then hiss and growl her way back to a dark corner, or under the kitchen table and sit there watching every move anyone makes. If it appears like we are coming towards her, she will really growl and hiss loudly then. Im not sure what we are going to do with them yet. My boys want to keep them, but its obivious EE-Ree is not going to be able to become a pet, and will have to be turned back to the wild as soon as she is able. I will either let Me-ka go to, or contact the Birmingham wildlife org that has the bobcats.
Man, I am going to have to put up a sign out front that says welcome to the Wild Kingdom I guess. LOL
More pictures will be coming to the pets section.
TRUE LOVE
Willie and Billy

What's New?
Sissy and Bubba
baby bobcats
Well, Sissy and Bubba are gone. I gave them to a rehabilitator yesterday, 8-18-04, to have them reintroduced to the wild when they are older. I was extremely sad, but I know it is what is best for them. We had several people beg to buy them, but there was no possible way I would sell them, because I wanted what was best for them, and that is to be free, and wild and happy little cats. They will always be in my heart. I even dreamed about them last night. They are at the Oak Mountain Center in Birmingham being cared for and loved and will hopefully be introduced to the wild again. They were on a scheduled feeding and I worried about them at their feeding time. What these people do is a terrific service for animals. Below is a link to their website for anyone that needs to get in touch with them or to just help out with a donation. Please, help them keep doing what they do for the wildlife, make a donation today!
Alabama Wildlife Rehabilitation Center
SISSY AND BUBBA UPDATE: NEW UPDATE:
I talked to someone from the AWRC yesterday, and the kittens are growing, healthy and eating raw meat now! How exciting!!! They are also being taught to kill small rodents and have a very large place to live, with lots to do. I bet they are so happy. I wonder if Bubba is still the "boss" when it comes to eating? lol. I hope to be able to go visit them soon. I cant wait!!! :)
The bobcats are now free, on Cheaha mountain. They were reintroduced to the wild a month or so ago, and cheaha is not far from my home, so I feel like they are always close by!